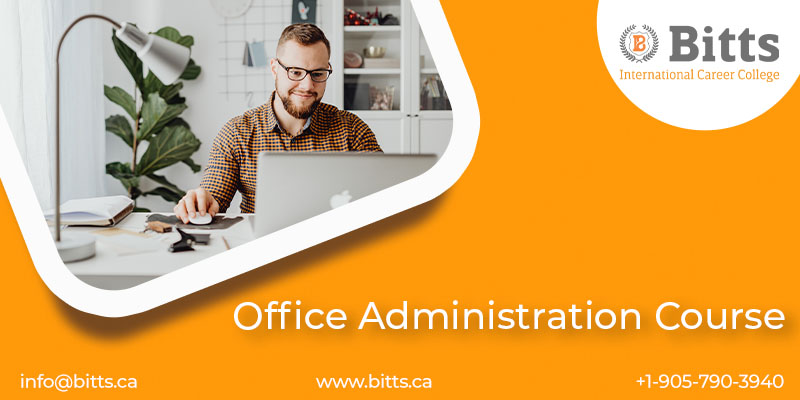 Office Administration with Bitts College Mississauga
Office Admin post is hard to attain but with the help of professional study such as a diploma course in office administration. It gives you an upper edge and brings you ahead of the league.
Why should someone enroll in an office administration course?
An administrator is responsible for carrying out duties in the office in an appropriate manner. For instance, a person wishing to apply for leave must undergo a proper method else the employee may face a payroll issue. Hence, one must consult human resources, or a Manager needing data is required to request the secretary to retrieve it. The aforementioned are all such functions are administrated by an Office Administrator.
An administrator's job is to oversee a set of day-to-day activities which are associated with maintaining personnel records, financial planning, record-keeping, maintaining files, billing, logistics and so on. It involves the most critical task of ensuring that resources are available for smooth functioning. Examples of job responsibilities are coordinating repairs of office equipment required for work, submitting requests for added resources, etcetera.
It also includes maintaining office supplies, printer cartridges, and paper and simultaneously keeping a note of the estimated budget. The office administration of a company has got to cover many activities and responsibilities. This can only be led by proper organizing, sorting and controlling things.
Why Office Admin is a Significant course to pursue?
The average salary for an Office Administrator is $20.59 per hour in Canada. Salary estimates are based on 7,192 salaries submitted anonymously to Indeed by Office Administrator employees. The data is collected from past and present job advertisements on Indeed in the past 36 months. The typical tenure for an Office Administrator is 1-3 years.
The success of any business depends upon the efficiency of office administration. The increase in productivity and employee satisfaction leads to perfect work management. It also focuses on the physical environment of the office like light, seating, space, tidiness, etcetera.
So, the office administration as a process should control and coordinate different sectors of an office. It provides a clear idea of leading the business to fulfil its predefined targets. However, it is needed to make sure that its growth and development are not halted by any kind of obstacle.
Office Administration Course with Bitts College
BITTS International Career College is one of the reputed career colleges, offering a diploma course in Office Administration. The Duration of this course is 35 weeks (2 semesters). The college offers part-time and full-time classes for students. Students can also take classes at the weekends. The flexible timetable for the classes makes it easier for students to cooperate with the course as well as follow other commitments.
The Office Admin course is an introduction to the fundamentals of computers, college English, and accounting. It enables the students to acquire knowledge about business communication, supply chain management, customer service and data management. This course will also help students to improve their keyboarding skills. 
However, our curriculum emphasizes day-to-day office tools such as MS-Word (Advance), MS-Excel (Advance), MS-PowerPoint (Advance), MS-Outlook (Advance) and MS–Access. Practical knowledge of all MS office tools is vital to achieving hands-on experience. Moreover, it is beneficial for students to develop successful strategies. Learn human resource administration, administration procedures, workplace values and ethics.
By successfully completing the Office Administration course, students can develop their strategies and skills in administration. With this, people can easily find employment in a dedicated field. There will be numerous opportunities. Students can easily apply for the position of a Bookkeeper, Executive ounce Assistant, Ounce Manager, Business Applications Specialist, Marketing Assistant, Corporate Account Assistant, Financial control clerk, Human Resources Assistant and Accounting and Payroll Administrator.
Students can also take up roles in Administrative Positions, Accounts Department and Customer Service.
Start your journey towards a secure and successful profession, you may visit diploma courses of BITTS college. 
Applications for admissions to the 2021 Batch at BITTS are now open. The college is also offering online classes and e-learning.