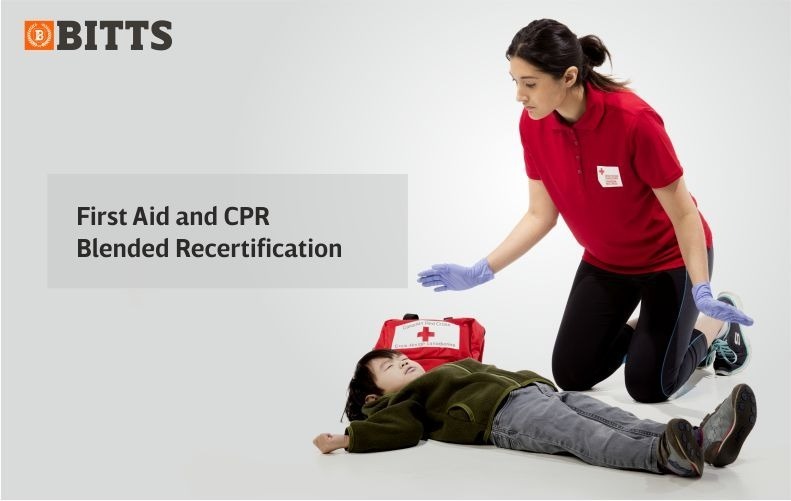 BITTS Certifications – First Aid and CPR Blended Recertification
Recertification confirms that one's competency has been upheld after initial training and offers a second certification for a time determined by the course. This must be completed before the first certification period expires.
Running a recertification course is different from running a beginner's course. Participants in a recertification course seek to maintain the abilities and knowledge they acquired during their initial training. Since they have been in a First Aid classroom and have completed training, they are familiar with the course material and may have utilized their First Aid abilities in a genuine emergency. Because of this, they have different learning demands than initial trainees, and their course is taught in a different way (in terms of teaching hours and learning activities). Except for the teaching hours required for each course, all standards for recertification courses remain the same.
How can I get certified or recertified?
Contact an authorized First Aid provider and sign up for the blended course. You can obtain an interim certificate for the knowledge acquisition element of the certification after completing the online course. The online portion of the course must be completed prior to the classroom portion.
To receive full re-certification or certification, an instructor needs to examine your practical abilities to confirm that the requisite first aid competencies have been proven.
Can I continue to practice FIRST AID/CPR even though my certificate has expired?
With an expired certificate, you can no longer practice First Aid/CPR.
How frequently should the training be revised?
Most First Aid certifications are only valid for three years at most. Training organizations are allowed to set higher standards and grant certifications with a two-year validity period.
To keep your certification valid before it expires, you must go through the training once more.
Before your original certificate expires, you can renew your standard First Aid certification once by finishing a one-day course with the original provider. The term "renewal" will appear on the new certificate.
If you've previously had your standard First Aid certificate renewed, you'll need to obtain a new one from an authorized institution when your current certificate expires.
To Register Please visit the link https://bitts.ca/red-cross-certification-registration/.