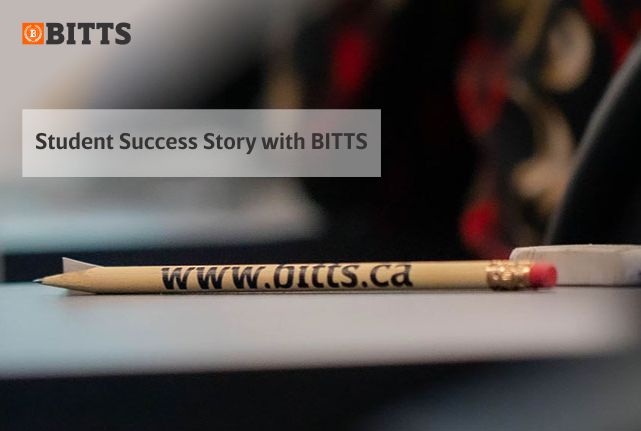 Student Success Story with BITTS
My Story
I am Ramanpreet Kaur.  Since my high school, I have always been passionate about traveling and experiencing new cultures. I chose to continue my higher studies abroad after receiving my degree in computer science. Most of my family members didn't agree with my brave decision, still, after receiving my diploma, I traveled to Canada in Jan 2021, in British Columbia with a program related to my studies. It took a lot of sacrifices, efforts, and tears to complete that journey, yet I was determined to follow it. Despite the difficulties, I knew there was no other way than get going to seek the rights, and independence I had craved for. Studying in Canada gave me the chance to pursue my academic interests added with the freedom to think and act the way I like.
How BITTS Made My Life Easier?
When I started my studies, I found out that the college of my first choice and course did not prove to be as good as I thought and I decided to transfer my college in Ontario since all my friends were in Ontario. One of my relatives suggested me to apply for a different college in Ontario as well. It wasn't great timing though, as all intakes were full. Luckily, someone suggested me to apply at BITTS International Career College.
BITTS's staff understood my situation and suggested me an 'Office Administration' course for May 2021 intake. At that time, I was waiting for my previous college's tuition refund, but my previous college was taking a lot of time in refunding my fees and this was definitely a stressful time for me.
BITTS enrolled me with a small enrolment fee and set up an installment plan to pay my tuition fees. I started studying right after this and later BITTS helped me finding a good part-time job while I was studying. 
Once I Was Done
After my studies, BITTS also helped me to get a full-time job as an office administrator that was related to my studies. I was on my way!
Thank you very much BITTS. You helped whereas the other schools did not, and assisted me in starting off my career in Canada by moving fast towards the right direction.