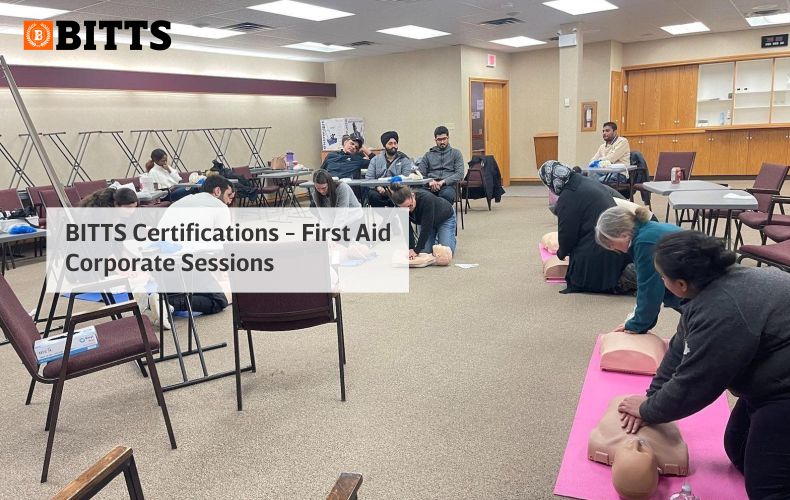 BITTS Certifications – First Aid Corporate Sessions
With so many companies working in physical and industrial environments, the need of first aid training has never been greater. Work can sometimes involve emergency or dangerous situations, and having as many qualified first aid staff on hand is heavily desired by employers nowadays. In the past, many professionals wanting to learn first aid had to take time off work to get their credentials and often at their own expense. But in the modern age, other opportunities to get first aid training are available.
Group Work to the Maximum
Corporate first aid training is becoming more popular for good reason. The blended training—half online and one day in the classroom—half online and 1 day in the classroom is short and can be done in one location, hence company superiors can involve as much staff in one place as they can. These group sessions also foster inter-staff collaboration and build working relationships between workers, especially those that have not otherwise ever interacted before.
What's even better is that first aid training is physical. Many corporate meetings, seminars, and lessons are sedentary with much time spent listening to people talk but with no movement or communication between attendees. First aid is the opposite: while theory is taught, session participants get a chance to be on their feet and practice life-saving techniques, making for a much more interactive learning environment.
Other Benefits
Fully Red Cross-partnered institutions like BITTS understand that taking time away from work to do even short courses can cost companies valuable time, labour, and money. Therefore, they are happy to offer discounts to whole groups of class fees and can also provide the session at locations convenient to the workers or corporate group.
Corporate first aid classes have so many positive attributes. Does it sound like something your company might need? Visit us at https://bitts.ca/redcross/ to see how your company workers can realize their collective first-aid learning goals.