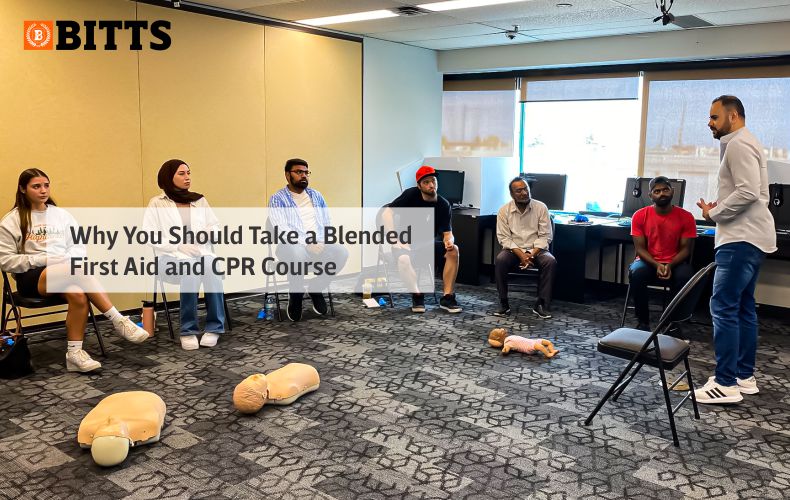 Why You Should Take a Blended First Aid and CPR Course
Imagine yourself in a circumstance when a person close by collapses and ceases breathing. Anyone in your home, workplace, or shopping location may experience this. Your capacity to act might save someone's life in a split second. This alone should be reason enough for everyone to complete a hybrid Red Cross CPR course.
CPR, also known as cardiopulmonary resuscitation, is a life-saving emergency technique used to keep someone alive if they stop breathing so that their brain may continue to get oxygen until further medical assistance arrives. Giving chest compressions promotes blood flow to important organs. Most emergency patients do not obtain CPR, which greatly reduces their odds of survival or raises the possibility of brain injury even if they do.
Becoming CPR Certified
Getting a CPR certification will guarantee that you have the information and resources needed to assist someone in need. You will learn the basics of CPR, on how to administer rescue breaths while using your hands.
For people who only have a limited amount of time to spend in a classroom setting and want to learn CPR, a hybrid course is the best option. The reasons why you ought to enroll in a hybrid CPR course include:
A New Approach to Blended/Hybrid Learning
In recent years, blended/hybrid first aid and CPR course learning formats have gained popularity. In a hybrid learning environment, students complete online course material at home at their own pace before completing a practical skills test—an arrangement allowing for the completion of 50% of the course online and 50% in a classroom. Students can complete the primary content of the course wherever and whenever they wish. Also, students can practice and improve their learned techniques during the training's practical portion while getting assistance from the in-class instructor.
Plan to Finish the Course
Programs that combine traditional and online learning allow for scheduling flexibility. Students can launch the online software whenever they like by simply signing into a designated website from their laptop or smartphone. Students can enroll in these online programs at any time of day and can complete the modules from their preferred workspaces.
Get Instant, Unlimited Access
After enrolling, students have unrestricted access to online CPR training. Students can break from learning before returning at any time to review the information and view the instructional videos.
To assist in learning, students can ask for a session to be repeated if they don't comprehend all materials. This is an essential component that is generally unavailable in a traditional face-to-face class. Also, any device with an Internet connection can access the course: all modules are fit for any modern tablet, laptop, smartphone, or desktop computer.
Acquire a Recognized Certification
By enrolling in a course at a reputable training center, students can be sure that both the certificate they obtain and the course selected are fully accredited by the Red Cross. 
In case you have any trouble locating your certification, BITTS can help in locating it.