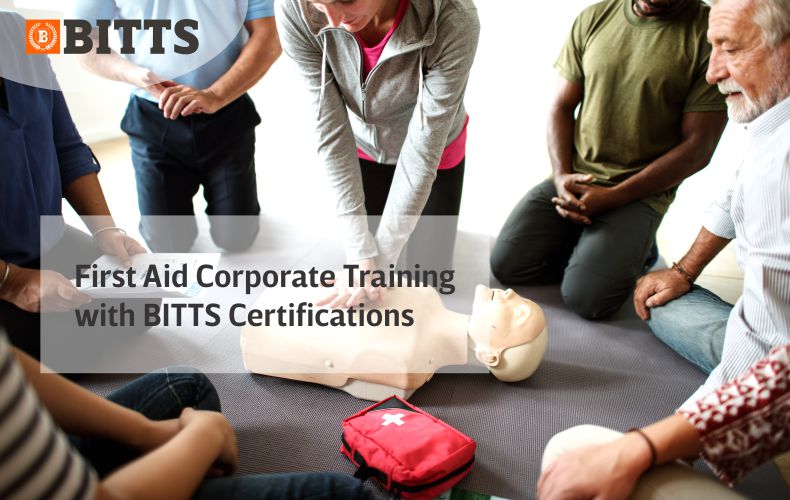 First Aid Corporate Training with BITTS Certifications
As a Canadian Red Cross training partner and leading authority in First Aid, our knowledge sets the bar when it comes to providing the most thorough and cutting-edge First Aid training programs for the workplace, academic needs, or general curiosity. We provide various certifications and Courses that meet legislation requirements for provincial /territorial worker safety and insurance boards and include the latest first aid and CPR guidelines to become certified in First Aid, CPR, and AED.
Our most popular Workplace First Aid Courses are:
Standard First Aid CPR Level C Blended Recertification
Emergency First Aid CPR Level C blended Recertification
CPR/AED Level A and C blended Recertification
Why Chose Corporate Training Programs
Most organizations in Canada require staff who are trained in First Aid, CPR, and AED to offer urgent care in the case of an injury or medical emergency. First Aid certification and equipment requirements vary based on regulatory authority, industry, workplace dangers, and personnel count.
BITTS Certifications provides First Aid training classes in several forms across Ontario to match your specific occupational health and safety requirements. We will collaborate with you to provide a tailored solution to satisfy your occupational health and safety requirements.
First Aid training Formats
BITTS Certifications offers the most complete training formats and industry knowledge to create excellent programs for building confident first responders.
Public in-Class Training: Available at 6 training locations across Ontario
Private Classes: Set up a private class at a schedule and location that works for you
Blended Learning: Reduce up to 50% of your required classroom training time with our blended learning
Corporate Client Services – Contact Information
Our customer service professionals are available to assist you in determining your first aid needs and developing a thorough strategy that considers your workplace's legal requirements, particular workplace risks, and working conditions.
To schedule the group training, please contact us:
Email: Lifeline@bitts.ca
Contact: https://bitts.ca/redcross/group-training-form/
Phone: +1 905-487-7043