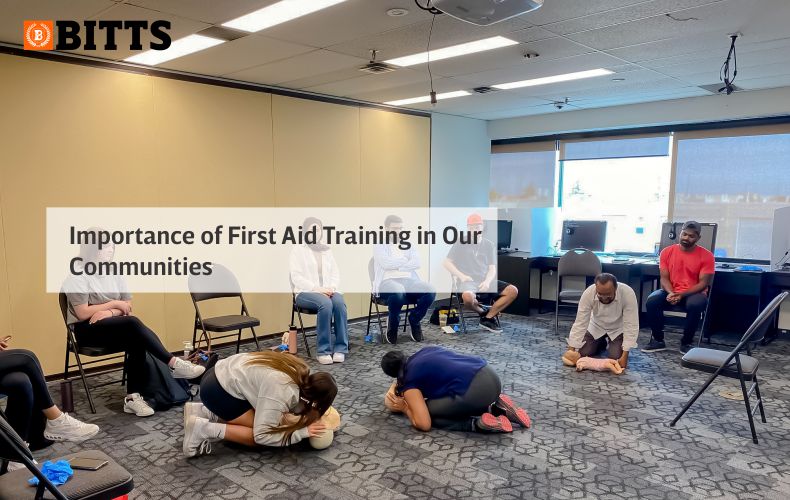 Importance of First Aid Training in Our Communities
Since most of our time is spent at home or in our community, it is likely that First Aid knowledge will be useful at some point. Injuries and illnesses can happen to anybody, at any time, so basic First Aid training and knowledge are both crucial to acquire to help in saving someone's life, be they a loved one, colleague, or a total stranger.
First Aid Training Advantages
Being trained in First Aid will prevent an emergency from getting worse before help arrives. Hence there are many arguments in favor of First Aid education in our communities:
The use of basic First Aid helps tremendously—your ability to react in an emergency scenario is enhanced with hands-on First Aid training.
First Aid eases discomfort and pain. It can be quite beneficial to understand which injuries require immediate medical attention. For example, anxiety caused by an accident can sometimes be reduced by simply administering ice or simple remedies to the wound.
Confidence and security—the community environment will be healthier and happier for you. Others around you when you have the necessary peace of mind and confidence in your ability to provide First Aid to anyone else in an emergency.
BITTS First Aid Training
BITTS provides both physical and psychological First Aid training because physical and mental health are interrelated. All of these First Aid classes are designed to help students be prepare for any dangerous emergency:
Standard First Aid Blended – This in-depth one-day blended course equips participants with skills for dealing with both life-threatening and less serious injuries and illnesses, as well as emergency First Aid.
Emergency First Aid Blended – This one-day training session will teach participants how to react to injuries and illnesses that pose a threat to their lives.
CPR/AED Level A and C Blended – Courses on cardiopulmonary resuscitation (CPR) provide the skills needed to recognize and respond to cardiovascular emergencies and choking for adults, children, and babies depending on the level of CPR chosen.
Please click the link below to register for any of the above-mentioned course sessions:
https://bitts.ca/red-cross-certification-registration/
Our neighborhoods will be safer if more people are trained in First Aid. You could be someone else's lifeline. Thus, awareness is essential and having the right First Aid education can make you an asset to your community.