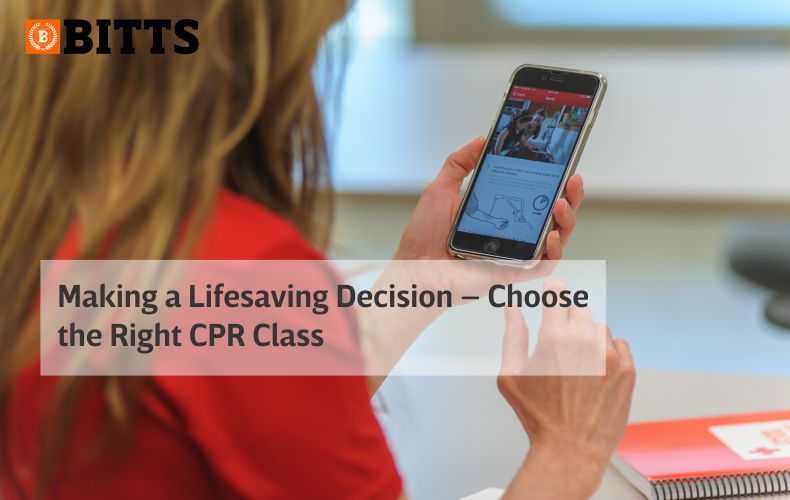 Making a Lifesaving Decision – Choose the Right CPR Class
How Do I Decide Which CPR Class to Sign Up For?
Are you confused about which CPR course to sign up for? Contacting the company that demands the certification and asking them what course you need is the simplest way to decide which first aid and CPR training are best for you. BITTS has set up this blog to help our students respond to the most typical question we receive and make the disparities easier to understand.
Requirements for Schools/Colleges and Universities
Basic Life Support [BLS], – (previously known as CPR-HCP,)- may only be required once a year for students entering medical or healthcare professions. However, some nursing schools require students to complete Standard First Aid CPR Level BLS, which is valid for three years and must be renewed every three years. For nursing students, BITTS Certifications provides low-cost group discounts; for more information on group training, please see the link: https://bitts.ca/redcross/group-training-form/
Facilities for childcare or recreation require First Aid knowledge encompassing Standard First Aid and CPR Level C, which includes adult, child, and infant abilities, while Emergency First Aid and CPR are typically needed for children and infants. The program will be determined by organizational policy. BITTS Often offers corporate discounts if your organization wishes to offer First Aid instruction to your personnel.
Occupational Entry Requirements
For guidance with workplace regulatory requirements, it is imperative to get in touch with the organization's body that oversees workplace health and safety – (in Ontario, this would be the WSIB). The Standard First Aid CPR/AED Level C blended course is a string starting part if you're unclear about what kind of workplace education you need.
The level of training required at a workplace is determined by the number of people working per shift:
At least one person must be qualified in Emergency First Aid in businesses with five or fewer employees on any given shift. Institutions around the province provide this 8-hour training.
In each corporate world with six or more people working on each shift, at least one person must have a Standard First Aid CPR certificate.
For workplaces with five or fewer people working on any one shift, at least one must have an Emergency First Aid certificate. This program is 8 hours long and is offered by organizations across the province.
For workplaces with six or more people working on any shift, at least one must have a Standard First Aid CPR certificate.
If your work is under government authority, such as transportation (airlines, trucking, shipping) or other entities such as the RCMP or Canadian Border Services, you are not subject to Work Safe BC's jurisdiction and will require Standard First Aid or Emergency First Aid. Both the RCMP and the Border Services recommend the 16-hour Standard First Aid course.
If you are still unsure about the best CPR course for you and/or your business, do not hesitate to contact us through email or phone. BITTS would be pleased to help.