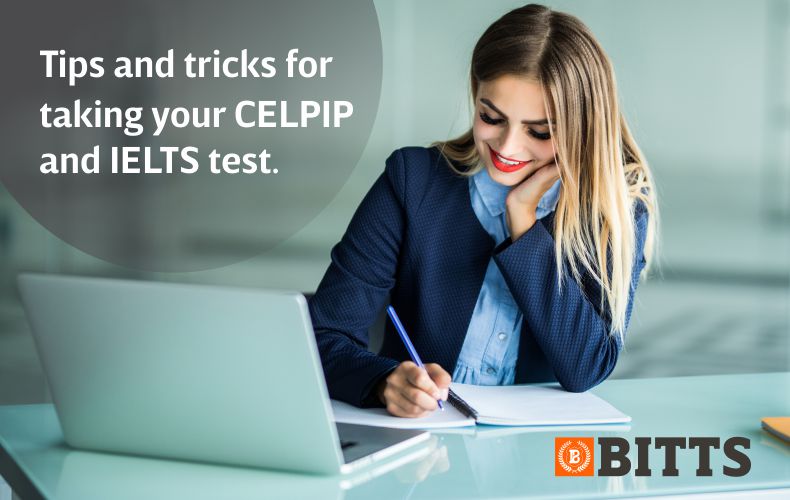 Tips and tricks for taking your CELPIP and IELTS test
When there is a talk about taking international language tests, test takers usually get nervous and make many mistakes that later affect their score and do not help at all with their performance.
Here is some good advice from successful test takers and language test experts that will help the test takers tackle their fears and be more confident to take any language test.
Do not drink too much fluid. Get hydrated the day before your test. Do not drink alcoholic beverages.
Go to bed early the day before your test. Do not stay until late watching TV or any other kind of entertainment, this will affect your performance, and thus your test score will be severely affected.
Plan your trip on time. It is a good idea to go to your test venue at least one day before so that you do not get lost with the address. Most of the international language tests require 45 minutes of arrival time before the test for registration purposes.
Relax and stay calm. On your test day, do not overthink every answer, instead relax and try to imagine that you are on vacation, talking to your best friend, or having some sort of pleasant experience.
Review all the rules, policies and take a mock up test. Go through every test website and check all the policies that are in place in case you have any problem and try to plan for unforeseen situations.
Check your weaknesses and strengths. Concentrate on your weakness, try to determine what are the flaws in your performance, and practice as much as possible.
Read aloud. It is scientifically demonstrated that reading aloud improves your listening and speaking significantly, thus your brain gets adapted to the new language.
Prefer test centers that have headphones instead of speakers. Headsets give you the advantage to focus better in your test and not get disturbed by other test takers, so choose your test center wisely as BITTS.
Look up reviews on the internet. Always ask for advice from friends and family about their experience with the test venue where you are planning to take your language exam.
Bring only the necessary implements on your test day. Test takers are only recommended to bring in their ID. BITTS provide all the stationery that you need to take your exam.
BITTS Testing Services gives you all the advantages of taking your language test, we provide not only professional noise-canceling headphones but also earplugs in case you get disturbed by other test takers.
We take our cleaning measures very seriously to prevent any cross-contamination by using the latest generation skin-friendly disinfectant in all our premises and devices.
Our IELTS and CELPIP Preparatory Courses are ranked as the best in Canada to help you get the score you are pursuing. Our instructors are certified and ready to help you improve your score by assessing your weaknesses and strengths.
Do not wait any longer! Register for your IELTS and CELPIP test today at BITTS Testing Services.