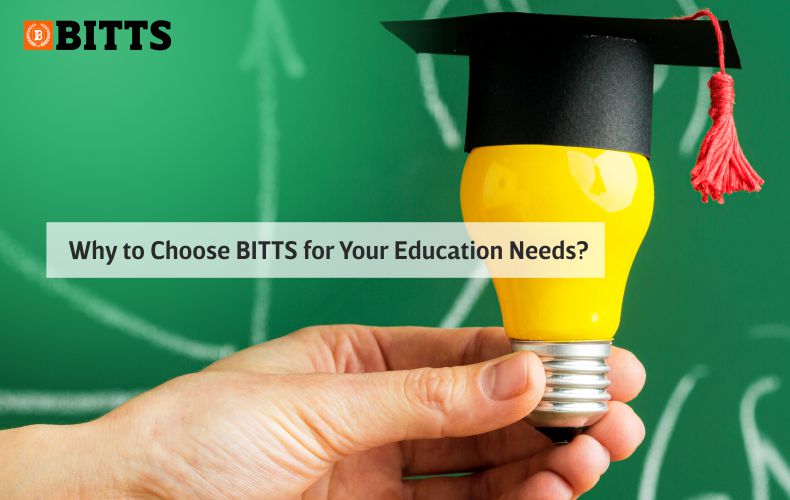 Why to Choose BITTS for Your Education Needs? 
There are a ton of schools out there. It's hard to discern which ones are quality or not, especially with so much global competition. BITTS is not only aware of this but wants to rise to the challenge of being a cut above other schools and what they offer to today's students. How? Well…
BITTS Has Much to Offer 
Some educational facilities specialize in only one area of study. That can be good but also limiting. These days, company employees, entrepreneurs, and even part-time job seekers need access to a full skillset. BITTS has everything from language learning to technology to administrative to even ayurvedic courses. If you're interested in it, we've got it.
BITTS is Very Accessible 
Many schools boast modern facilities and study options. BITTS really has them—we have several educational and testing locations, all backed by an internal information technology team that can help deliver lessons, tests, and interactive practicums either onsite or online. BITTS prides itself on being able to make your studies as engaging and easy to access as possible.
BITTS has Combinations
Like to merge studies and testing? How about pathway programs? No problem. BITTS has both education and testing all under one roof. So many students need both a certificate, diploma, short and preparatory course completion, followed by testing results for further studies, work, or immigration. BITTS has recently integrated a comprehensive testing service that includes IELTS, CELPIP, PearsonVUE tests, Prometric, Yardstick, along with secondary-to-post-secondary educational associations. You can finish your studies, take your tests, and then move to the next step you've set for yourself.
BITTS has specialists
You need quality instruction and guidance, especially in today's complex world. BITTS employs staff that understand educational guidelines, testing needs, and proper professional development. If you have questions before, after, or during your studies, the staff at BITTS can provide the answers you need.
Got a question about what you want to study or how to actualize your dreams? Check us out at bitts.ca and contact us there to see how BITTS can guide you.